Information about our t-shirts
All of Unseen Sketchbooks' t-shirts are supplied by Earth Positive and are climate neutral and licensed under the Global Organic Standard to produce them with certified Indian cotton. Earth Positive are proudly a Vegan clothing brand, so you can rest assured that the entire manufacturing process is as ethical as it is resourceful, using wind and solar power in the manufacturing process.
We try to make the screen printing process as environmentally friendly as possible too.
Size guide – men's standard t-shirt
Our men's regular t-shirt has short sleeves and a crew neck. It is made from 100% organic combed cotton making it comfortable and durable. 
100% Combed Organic Cotton
Jersey 150g
Size guide – women's rolled sleeve t-shirt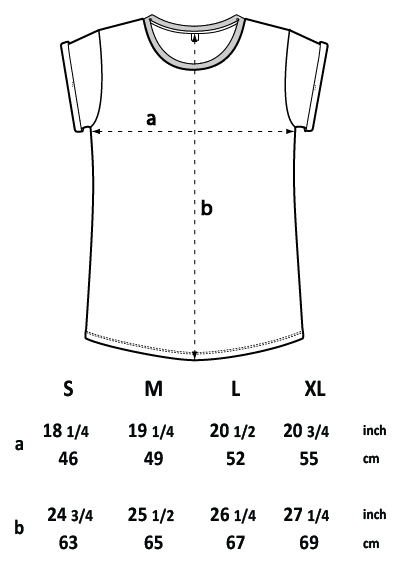 Our short sleeved t-shirt feature a rolled sleeve and are made from 100% combed organic cotton which gives a real softness next to the skin and extra comfort. Our t-shirts are perfect for people who prefer to shop for environmentally friendly products.  
100% Combed Organic Cotton
Jersey 3.8 oz-4.6 oz / 130g-155g
Weights
T-Shirt weights range from the very light (3.4 oz) to a more standard (5.5 oz) on up to the heavy (6.1 oz to 7.1 oz) shirts.