This self portrait by George Hardie was originally made in 1973 (the year George did the iconic Pink Floyd Dark Side of the Moon album cover), when George had recently left the Royal College of Art. The artwork was produced as a first stage towards making a logo marque that George used for many years, in particular his time at Nicholas Thirkell Associates (NTA). The logo marque appears on page 16 of the limited edition book by Hardie, 'Manual'.
Shown below is the original print on board, hand made using drafting paper, ink and Tippex.
The text at the bottom of the print reads "My wife drives me to the cottage and my work drives me back".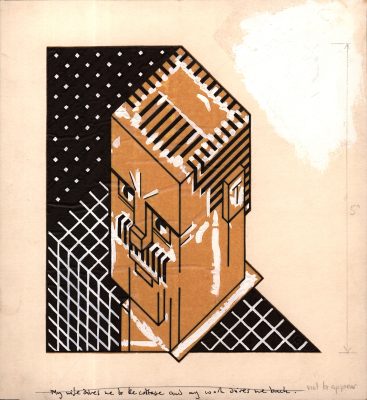 Shown below is a screen print in two base layers, black a metallic and a final white representing the Tippex marks produced to celebrate the original. This print appeared as part of a series in promotional mailer for Nicholas Thirkell Associates (NTA) titled 'The Blokes', also in Cabinet. This more graphic black and white version features the isometric tropes of George's work exploring pattern and form.